GRIPP in Action
On 16th May 2022, the Governor of the Bank of England warned of 'apocalyptic' rising food costs. The number of 'benefits claims' are significantly rising and that's just covering the people who appear within the 'benefits systems' and excludes all the people who are living in poverty and who – for one reason or another – don't appear there.
The UK Government's State report to the 7th ICESCR Review committee is a whitewashing of the issues and reality of people's lives.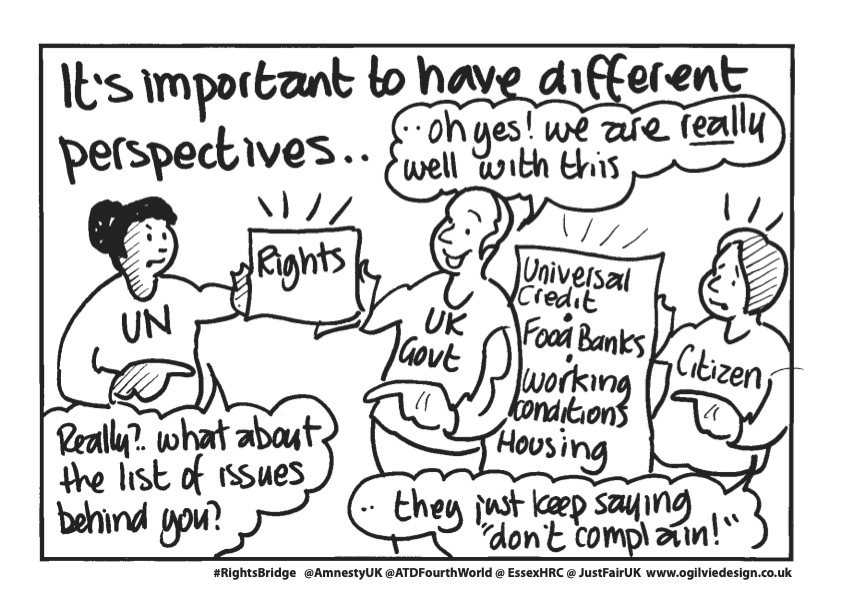 This project is a check on the UK government – a reality check from the grassroots. It will reveal the truth of poverty as a violation of human rights in the UK and in so doing expose the gross inadequacy of this government's response and its blockage of the UN's efforts to ensure transparency and accountability to those who have signed up to International Covenants.
From September 2022 to December 2024, a number of grassroots groups, from across the regions and nations of the UK, are researching their lived experience, sharing and telling their stories to the UN and other decision makers.
These grassroots groups ATD Fourth World UK, Intisaar, RAPAR and Thrive Teesside are working alongside policy organisations and academically located allies to exchange knowledge and challenge understanding of what a Human Rights Based Approach means in action.
The project design has been led by these grassroots groups and will involve a series of knowledge & capacity releasing residentials, a virtual Action Learning Research space, and focused research groups across the UK over the coming months and years.
This project works alongside the 7th ICESCR review process and expects to make a number of submissions to, or actions around that process.
Watch this space!