RightsBridge: Can We Create Meaningful Involvement In The ICESCR Review?
Activists from across the four nations of the UK came together at the on 5th July 2021 for another "Building a Human Rights Bridge out of Poverty" event to further conversations about the ICESCR Review process of 2022-23. This fourth event in the #RightsBridge series focused on what meaningful participation of people with lived experience should look like.
As with previous #RightsBridge events, Graham Ogilvie worked to document the event through his cartoon imagery. Here follows a brief write-up/draw-up of the presentations and discussions. You can scroll through the images by clicking on the black arrow on the right of the picture slideshow:
The session started with a recap of discussions covered in the previous session followed by Amanda Button and Patricia Bailey of ATD 4th World UK holding a conversation with Janet Nelson of ATD 4th World Geneva. They shared their reflections on how, as activists with lived experience, they have engaged with similar UN policy makers and spaces.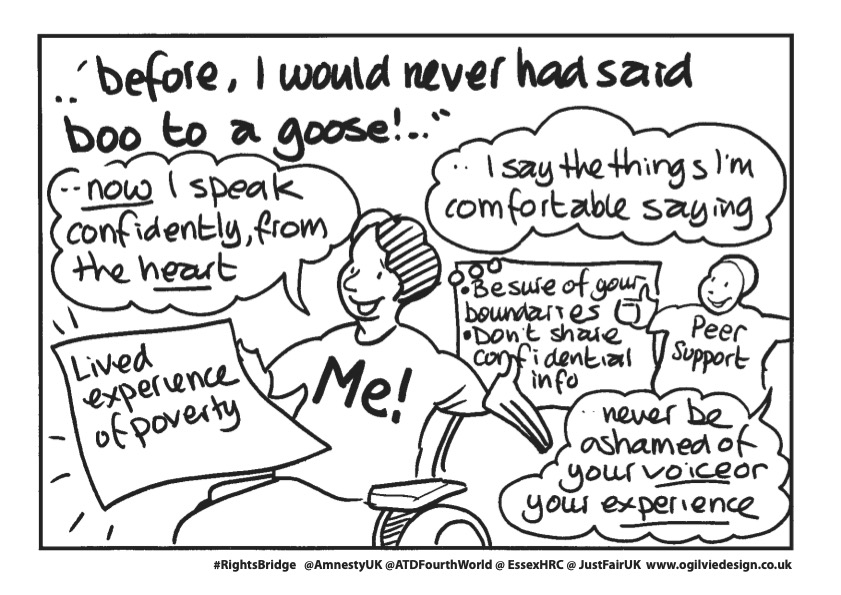 A video of Amanda, Patricia and Janet's dialogue can be viewed below:
Participants took time to reflect on what they heard from Amanda and Patricia and posed further questions about how people with lived experience could utilise the ICESCR review 2022-23 process: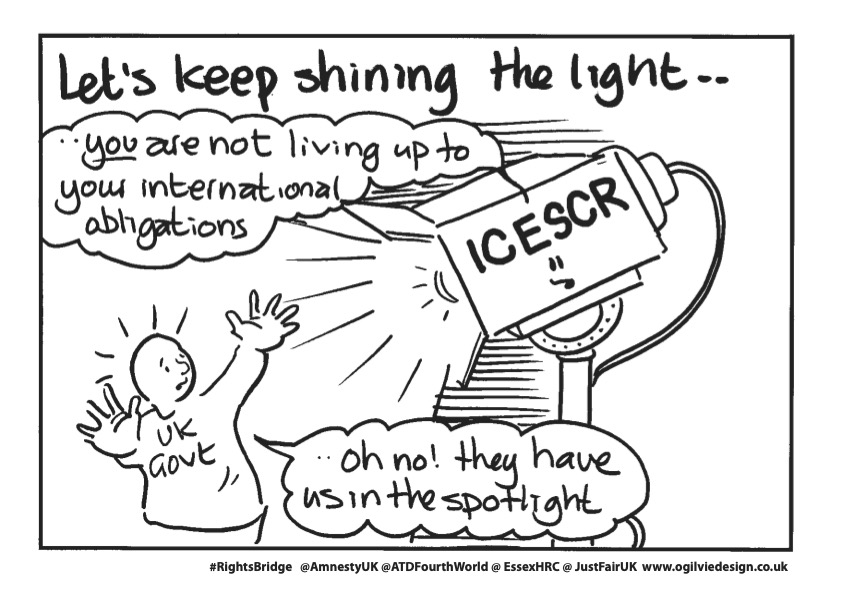 Further group work explored what is needed to allow full and meaningful involvement by people with lived experience in this kind of process: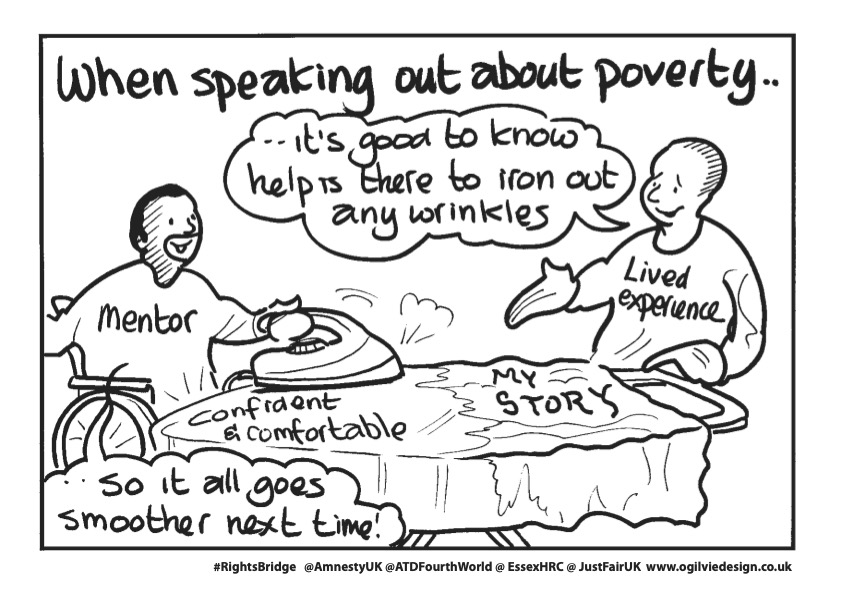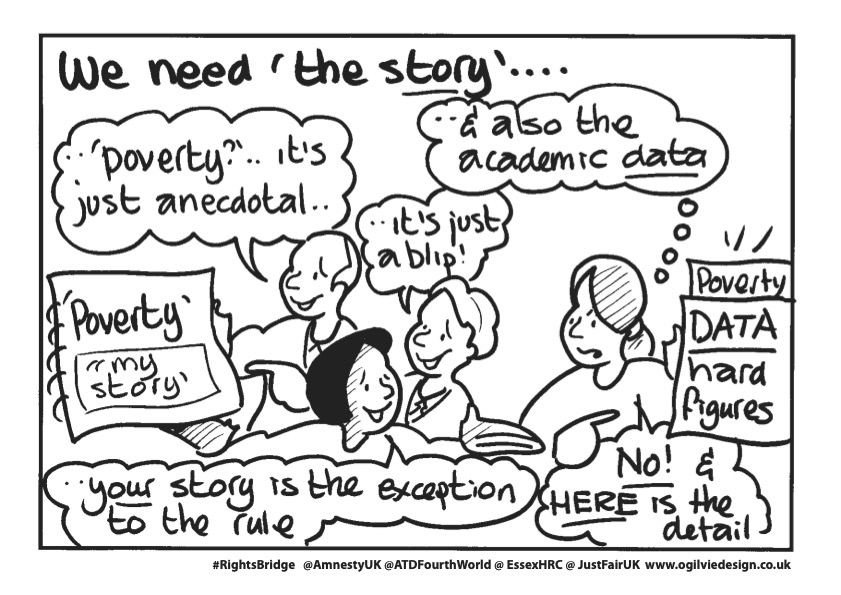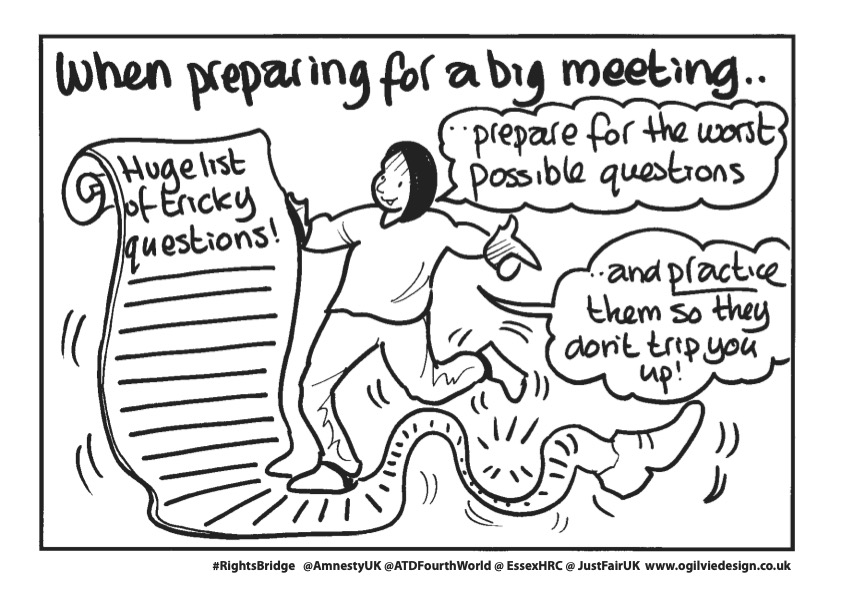 Closing remarks came from Susanna Hunter-Darch, from the Social Rights Alliance, acknowledged the interest generated through the #RightsBridge project in how ICESCR could be used to build a human rights bridge out of poverty. She invited participants to come forward if they are interested to be involved in future stages of the project which will focus on the ICESCR review – she also made point to acknowledge the need to consider a 4 nations approach to this work ensure that learning is shared across the UK.
The #RightsBridge project is now going into a review stage and will be evaluating the work over the summer months. We hope to come back in the Autumn 2022 with a Phase 2. Keep an eye on these blog pages for more news about #RightsBridge after the summer…
– – –
The Building a Human Rights Bridge out of Poverty series has been organised by Just Fair, Amnesty International UK, ATD Fourth World and the Human Rights Centre of the University of Essex, RAPAR, Thrive Teeside, Bevan Foundation and the Social Rights Alliance England.
You can read about what has happened previously in this project here.
This blog was first published on the Social Rights Alliance website.